B

i

r

t

h

d

a

y

P

a

r

t

i

e

s

!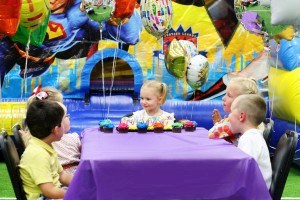 Does your child have a birthday or other celebration approaching? Triple Crown Family Fun Center is one of central Ohio's premier destinations for parties, with the area's leading facilities, service and prices.
We offer a wide variety of birthday party options, and we try to make each party unique and special.
**If you are having a problem booking your party please text "HELP WITH PARTY" to 740-649-6929, and someone will call you within 24 hours.**
In order to reserve a party online, all items require a non-refundable $50 deposit at this time.
**Upstairs is not handicap accessible Online reservations are to be made 24 hours in advance.
---
Restrictions
You may bring in your own CAKE and ICE CREAM.
ABSOLUTELY NO OTHER OUTSIDE FOOD OR DRINKS ARE ALLOWED.
You may also bring your own decorations, but please NO DRINK CUPS.
Please No confetti or "Swing" Pinatas
Reserve Your Party Below!
---
Super Inflatable Land Party
Downstairs (We do not offer Balcony Parties at this time)
- 10  Wristbands (Under 44")
- 10 $5 Game Credits
- 2 X-Large Single Topping Pizzas
- 10 Refillable Fountain Drink Cups
ONLY $199.00 (Requires $50 Deposit)
*Additional $5.00 per jumper that is 44" & over


More than 10 Jumpers? No Problem 
Additional Jumpers Under 44"- $8 (Wristband, $5 Game Card, Drink Cup)
Additional Jumpers 44" & Over- $13 (Wristband, $5 Game Card, Drink Cup)
Additional Pizza- Special Price of $10, Large Single Topping Pizza
Additional Drinks- Special Price of $2
These Add-on Prices are only Valid for the Birthday Party Package and can only be applied to the Party Bill.